Bluetti EB150 1500Wh/1000W Portable Power Station
C$249.99 OFF,  COUPON CODE:  EB240249
Highlights:

Huge Capacity and load: 1500Wh/1000W(Max.), overload capacity: 1000W ≤load<1200W @2Min; 1200W≤load @1s.
Built in Top-brand LG battery cell, reliable and safe assured.
All-in-1 power station with various outputs:2*AC outlets for most household appliance under 1000W,1*DC12V for car powered devices,1*PD Type-C (Max 45W) for USB-C devices,4*5V3A(Max) USB.
AC/Solar recharged: it takes 10hrs to be fully charged by ACwall outlet.Charge time varies on the solar panel(higher power of the panel, shorter charge time)
MPPT highefficient solar charging.
Pure sine-wave.
Battery management system (BMS),Multi-protection,moresafeguards.
Size&net weight: 14.6*6.5*14.4inch,37.9lb.
12 month replacement or maintenance warranty.
[features]EB150 Portable Power Station, Power Outdoor.
The MAXOAK Bluetti EB150 is a HUGE CAPACITY portable power station with lithium ion battery capacity of 1500Wh ( LG Li-ion battery cell, 101,351mAh/14.8V( equivalent to 405,405mAh 3.7V)) ,1000W pure sine wave output, PD Type-C Quick Charge (Max.45W), and Two ways of recharging (solar / wall).
Unlike other small capacity power station, it has broader capacity and can charge higher power device like electric drill, hair dryer, blender (make sure the max. of your device is no more than 1000W). once fully recharged the power station EB150, the huge capacity 1500Wh ensure your device have a much longer charge time, no need to recharge it time and time again.
Capacity:1500Wh (405000mAh/3.7V , 101351mAh/14.8V)
Battery: LG Li-ion battery cell, 101351mAh/14.8V
AC/PV Input: 7.9*0.9mm DC, 42V/160W, OCV 16V~60V /MAX.10A 
AC Output: 110V,Max.1000W
Car Port: DC 12V/9A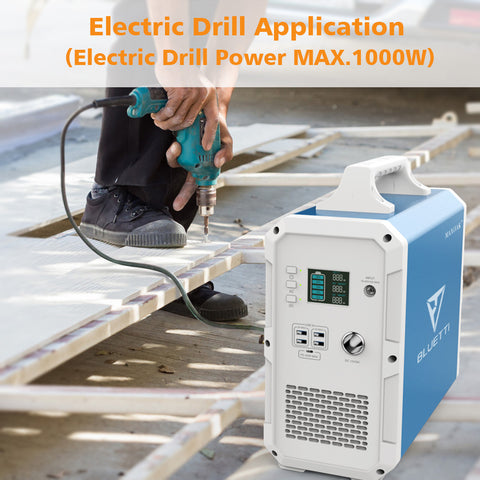 Highest Capacity Power Station
1500Wh/1000W(Max.), Longest Lasting Lithium Power Station, Specially
Designed for High-power Device Such as Blender, Drill, Hair Dryer
(Max.1000W).
 [/features] [specifications]specifications [/specifications] [videos]videos[/videos] [manual]manual[/manual]
Convenient and practical
This Bluetti is great. I have used the unit a few times at an off-the-grid camp. The unit is very heavy, but the convenience is wonderful. We are able to run a small fridge, power a string of lights, and charge our phones. Also, the time to recharge the unit (from a wall outlet at home) is much less that I was expecting. I am looking forward to trying to charge the unit from a solar panel as well. Overall, I am very pleased.
Works as expected
I'm happy with my purchase but I do wish the inverter was bigger to go along with that big battery
So far so good
Received the EB150 in good order about 15 days after order. Primary use is for backup. Good solid build. Tested running a cpap on 110 vac, ok but less efficient, on 12vdc I get almost double the runtime at least 10 days on 24-7. Looking forward to take it to the off grid cottage and charge off solar. Would have been better with 120v in to mppt but I'll sort it out with the 60 v limitation. I'm please with it so far. I expect great things with the EB150.